Comparación en la elección de una ventana óptima para algunos estimadores de densidad
Mathias Bourel

Universidad de Montevideo, Uruguay
Palabras clave
Estimación densidad, Histograma, Estimación por núcleo
Resumen
La estimación de una densidad es un problema clásico y muy estudiado en Estadística. En este artículo repasamos brevemente algunos estimadores usuales de una densidad unidimensional como el histograma, el Averaged Shifted Histograms (ASH) y el estimador por núcleo. Nos interesamos en particular a la elección de la ventana, parámetro determinante en cuanto a la predicción del modelo. Terminamos nuestro trabajo con una simulación comparando los métodos presentados sobre un conjunto común de densidades.
Descargas
La descarga de datos todavía no está disponible.
Citas
[1] W. Härdle, M. Müller, S. Sperlich, and A. Werwatz. Nonparametric and Semiparametric Models.Springer Verlag, Heidelberg, 2004.
[2] D.W. Scott. Multivariate Density Estimation: Theory, Practice, and Visualization. Wiley series in probability and mathematical statistics: Applied probability and statistics. Wiley, 1992.
[3] B. W. Silverman. Density Estimation for Statistics and Data Analysis. Chapman and Hall, London, 1986.
[4] M. Rosenblatt. Remarks on some nonparametric estimates of a density function. The Annals of Mathematical Statistics, 27:832–837, 1956.
[5] A. Bowman. An alternative method of cross-validation for the smoothing of density estimates. Biometrika, 71:353–36, 1984.
[6] C. Stone. An asymptotically optimal window selection rule for kernel density estimates. The Annals of Statisitics, 12:1285–1297, 1984.
[7] S. J. Sheather and M. C. Jones. A reliable data-based bandwidth selection method for kernel density estimation. Journal of the Royal Statistical Society, Series B, Methodological, 53:683–690, 1991.
[8] S.J. Sheather. Density estimation. Statistical Science, 19(4):588–597, 2004.
[9] M. Bourel. Metodos de agregacion de modelos y aplicaciones. Memoria de trabajos de difusion cientifica y tecnica, 10:19–32, 2012.
[10] M. Bourel, R. Fraiman, and B. Ghattas. Random average shifted histogram. To appear, 2013.
[11] M. Bourel and B. Ghattas. Aggregating density estimators: an empirical study. Open Journal of Statistics, 3(5), 2013.
[12] M. Di Marzio and C.C. Taylor. Boosting kernel density estimates: A bias reduction technique? Biometrika, 91(1):226–233, 2004.
[13] D.W Scott. Averaged shifted histogram: Effective nonparametric density estimators inseveral dimensions. The Annals of Statistics, 13(3):1024–1040, 1985.
[14] M. Bourel. Apprentissage statistique par agrégation de modèles pour l'estimation de la densité et la classification multiclasse. Tesis Université Aix-Marseille, France, 2013.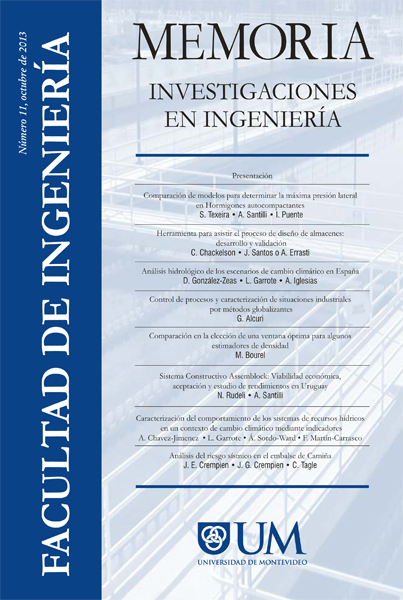 Cómo citar
[1]
M. Bourel, Comparación en la elección de una ventana óptima para algunos estimadores de densidad, ingenieria, n.º 11, pp. 59-74, dic. 2013.
Palabras clave:
Estimación densidad, Histograma, Estimación por núcleo
Derechos de autor 2019 Mathias Bourel
Esta obra está bajo licencia internacional
Creative Commons Reconocimiento 4.0
.