Análisis del uso de blockchain para la gestión de zonas de cargas para la distribución urbana
Palabras clave
Blockchain, Transporte de carga urbano, Zona de carga/descarga, Logística urbana
Resumen
La falta de eficiencia en el uso de la infraestructura dedicada a la carga y descarga de carga en la ciudad, junto con su escasez y colocación ineficiente, genera congestión y retrasos en las entregas de carga urbana. Este estudio, presenta un estudio exploratorio sobre la viabilidad de incorporar tecnología en la gestión de áreas dedicadas de carga / descarga para logística urbana en el centro de Montevideo (Uruguay). Una vez recopilados los datos del barrio, y recogido el interés principal de los involucrados (stakeholders), este artículo analiza una solución tecnológica factible, considerando las restricciones impuestas por los actores para compartir información. Debido a la creciente influencia de blockchain y su implementación para problemas logísticos específicos, como la trazabilidad del producto, la introducción de blockchain es considerada como parte de la solución y se discute en la arquitectura del sistema.
Descargas
La descarga de datos todavía no está disponible.
Citas
Allende, M. (2021). Blockchain - LACCHAIN FRAMEWORK FOR PERMISSIONED PUBLIC BLOCKCHAIN NETWORKS. IDB. Obtained from: https://publications.iadb.org/publications/english/document/LACChain-Framework-for-Permissioned-Public-Blockchain-Networks-From-Blockchain-Technology-to-Blockchain-Networks.pdf
Ballantyne, E. E., Maria, L., & Wheiteing Anthony. (2013). A comparative study of urban freight transport planning: addressing stakeholder needs. Journal of Transport Geography. Obtenido de https://www.sciencedirect.com/science/article/pii/S0966692313001671
Berenguer, M., Da Silva, L., & Balassiano, R. (2004). Intelligent transportation systems and parking management: implementation potential in a Brazilian city. Cities, 21(2), 137-148. doi: https://doi.org/10.1016/j.cities.2004.01.001
Comi, A., Buttarazzi, B., Schiraldi, M. (2018). Smart urban freight transport: tools for planning and optimising delivery operations. Simulation Modelling Practice and Theory, 88, 48-61.
DHL, & Accenture. (2018). Blockchain in Logistics - Perspectives on the upcoming impact of blockchain technology and use cases for the logistics industry. Retrieved from https://www.logistics.dhl/content/dam/dhl/global/core/documents/pdf/glo-core-blockchaintrend-report.pdf
Fransoo, Jan C., Blanco, E. and Mejia-Argueta, C. (Eds.) (2017). Reaching 50 Million Nanostores: Retail Distribution in Emerging Megacities, CreateSpace Independent Publishing Platform, 440 pp.
Han, L., Chin, S., Franzese, O., & Hwang, H. (2005). Estimating the impact of pickup and delivery-related illegal parking activities on traffic. Transportation Research Record: Journal of the Transportation Research Board, 1906, 49–55
Innarella, R., Varisco, M., & Rosati, L. (2017). DynaLOAD: a simulation framework for planning, managing, and controlling urban delivery bays. Transportation Research Procedia, 22, 335-344. doi: https://doi.org/10.1016/j.trpro.2017.03.049Allende
Instituto Nacional de Estadística, Uruguay. (2011). Censos 2011. Retrieved 28 June 2018, from http://www.ine.gub.uy/web/guest/censos-2011
Kelli, L., Abreu, B., Dablanc, L., Ribeiro, K., Setsumb S. (2018) Distribuição Urbana de Mercadorias e Planos de Mobilidade de Carga Oportunidades para municípios brasileiros. BID. Doi: http://dx.doi.org/10.18235/0001169
Kijewska, K., Iwan, S., Nurnberg, M., Malecki, K. (2018) Telematic tools as the support for unloading bays utilization. Archives of Transport System Telematics.
Löf, M. (2017). Decentralized Transactions in a Centralized Environment. A Blockchain Study Within the Transport Industry.
Malik, L., Sánchez-Díaz, I., Tiwari, G., & Woxenius, J. (2017). Urban freight-parking practices: The cases of Gothenburg (Sweden) and Delhi (India). Research In Transportation Business & Management, 24(1), 37-48. doi: https://doi.org/10.1016/j.rtbm.2017.05.002
Manzano dos Santos, E., & Sánchez-Díaz, I. (2016). Exploring Carriers' perceptions about City logistics initiatives. Transportation Research Record: Journal of Transportation Research Board, 2547, 66–73
McLeod, F., & Cherrett, T. (2011). Loading Bay Booking and Control for Urban Freight. Recuperado de https://doi.org/10.1080/13675567.2011.641525
Muñuzuri, J., Cortés, P., Guadix, J., & Onieva, L. (2012). City logistics in Spain: Why it might never work. Cities, 29(2), 133-141. doi: https://doi.org/10.1016/j.cities.2011.03.004
Muñuzuri, J., Larrañeta, J., Ibáñez, J. N., & Montero, G. (2006). Pilot demonstration of a web-based loading zone reservation system. Recent advances in city logistics (pp. 401–415). Oxford: Elsevier
Perry, E., Oberhart, E., & Wagner, S. (2015). Truck Parking Management Systems: A Synthesis of Projects, Research, and Resources for MAASTO Decision Makers. Recuperado de http://docplayer.net/14911143-Truck-parking-management-systems-a-synthesis-of-projectsresearch-and-resources-for-maasto-decision-makers.html
Stickel, M., & Furmans, K. (2005). A web-based support tool to coordinate logistic activities in densely populated areas using auctions. Recuperado de https://www.witpress.com/elibrary/wit-transactionson-the-built-environment/77/14638
Taniguchi, E., Thompson, R. G., Yamada, T. y Van Duin, J. H. (2001) City logistics: Network modeling and intelligent transport systems. Elsevier Science
Venkatesh, V., Morris, M. G., Hall, M., Davis, G. B., & Davis, F. D. (2003). User acceptance of information technology: Toward a unified view. MIS Quarterly, 27(3), 425–478. https://doi.org/10.2307/30036540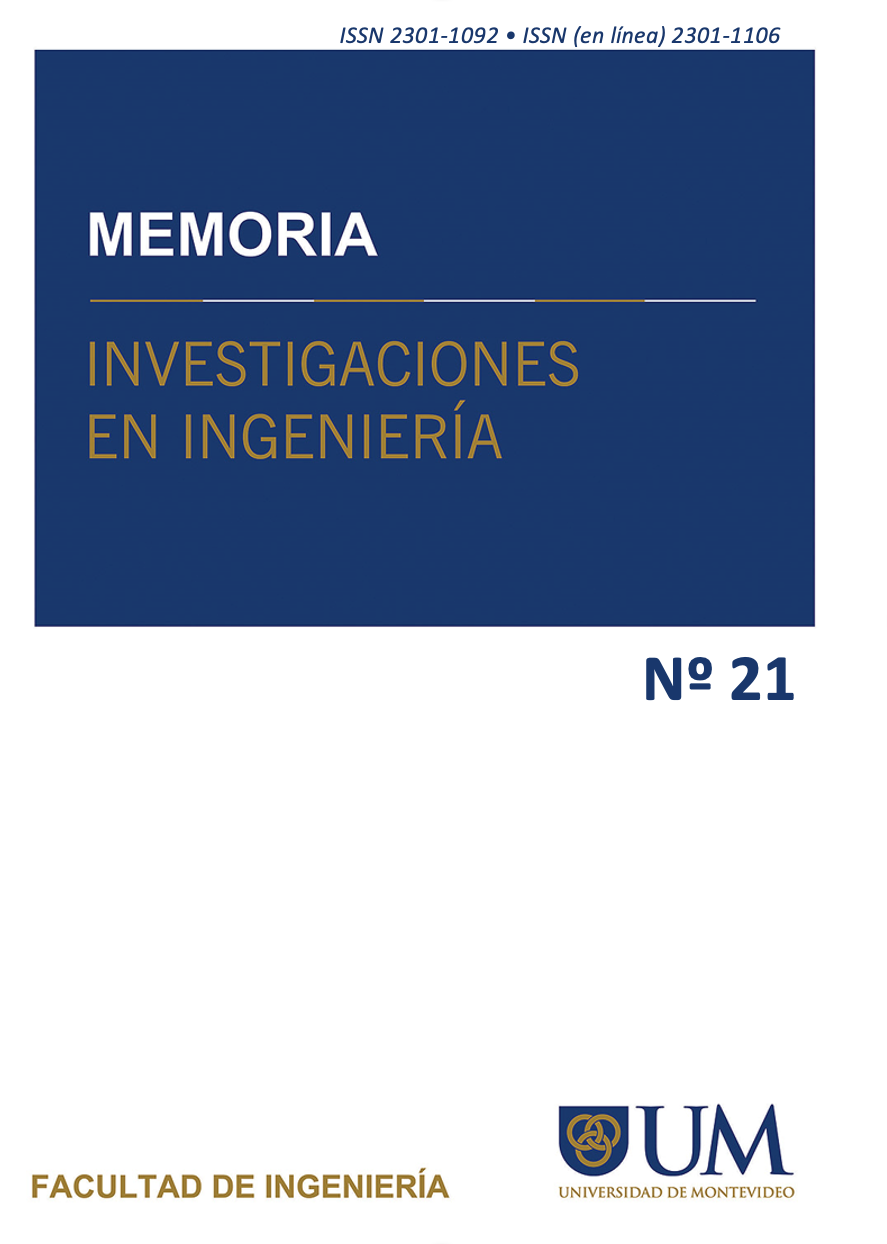 Cómo citar
[1]
M. Tanco, D. Jurburg, P. Menendez, J. Topolansky, y F. Algorta, Análisis del uso de blockchain para la gestión de zonas de cargas para la distribución urbana, ingenieria, n.º 21, pp. 115-129, dic. 2021.
Palabras clave:
Blockchain, Transporte de carga urbano, Zona de carga/descarga, Logística urbana
Derechos de autor 2021 Martín Tanco, Daniel Jurburg, Pilar Menendez, Juan Andrés Topolansky, Felipe Algorta
Esta obra está bajo licencia internacional
Creative Commons Reconocimiento 4.0
.