Equipos de Mejora
aplicación del modelo de efectividad en equipos de mejora de empresas de la Comunidad Autónoma Vasca
Carmen Jaca

TECNUN, Universidad de Navarra, España

Elisabeth Viles

TECNUN, Universidad de Navarra, España

Ricardo Mateo

Universidad de Navarra, España

Javier Santos

TECNUN, Universidad de Navarra, España

Martín Tanco

CITEM, Universidad de Montevideo, Uruguay
Palabras clave
Trabajo en equipo, Mejora continua, Modelo de efectividad, Procesos, Participación
Resumen
El trabajo en equipo es uno de los elementos más importantes para los sistemas de Mejora Continua, ya que facilita el intercambio de información, la resolución de problemas y el desarrollo de las personas. Esta investigación tiene como objetivo obtener conclusiones sobre los
factores críticos para conseguir el éxito del trabajo realizado por los equipos de mejora, a través de una investigación cualitativa basada en entrevistas a empresas industriales de la Comunidad Autónoma Vasca, en España, gestionadas según el modelo EFQM y premiadas por su gestión. Para ello se ha adaptado el modelo IMO de efectividad de trabajo en equipo, que permite la evaluación de los distintos factores críticos. Los resultados obtenidos indican que las organizaciones deben prestar atención a los factores relacionados con el equipo y sus miembros, como el reconocimiento grupal y la formación en conjunto, entre otros.
Descargas
La descarga de datos todavía no está disponible.
Citas
[1] Cooney, R.; Sohal, A. Teamwork and Total Quality Management: a Durable Partnership. Total Quality Management & Business Excellence 2004; 15(8): 1131-1142.
[2] Salas, E.; Sims, D. E. y Burke, C. S. Is there a "Big Five" in Teamwork? Small Group Research 2005; 36(5): 555-599.
[3] Guzzo, R.A.; Dickinson, M. W. Teams in organizations: recent research on performance and effectiveness. Annual Review of Psychology 1996; 47: 307-338.
[4] Katzenbach, J.R.; Smith, D. K. The Discipline of Teams. Harvard Business Review 1993; 71(2): 111-120.
[5] Hackman, J. R. Groups that work (and those that don't) : creating conditions for effective teamwork, 1st edn. San Francisco: 1990.
[6] Zander, A. Making groups effective San Francisco ; Oxford: 1994.
[7] Ven, A.H.V.d.; Rogers, R. W.; Bechara, J. P. y Sun, K. Organizational diversity, integration and performance. Journal of Organizational Behavior 2008; 29(3): 335-354.
[8] Brannick, M.; Salas, E. y Prince, C. Team performance assessment and measurement: Theory, methods, and applications Mahwah, New Jersey: 1997.
[9] Bhuiyan, N.; Baghel, A. y Wilson, J. A sustainable continuous improvement methodology at an aerospace company. International Journal of Productivity and Performance Management 2006; 55(8): 671-687.
[10] Grütter, A.W.; Field, J. M. y Faull, N. H. B. Work team performance over time: three case studies of South African manufacturers. Journal of Operations Management 2002; 20(5): 641-657.
[11] Suárez-Barraza, M.F.; Ramis-Pujol, J. y Kerbache, L. Thoughts on kaizen and its evolution: Three different perspectives and guiding principles. International Journal of Lean Six Sigma 2011; 2(4): 288-308.
[12] Berger, A. Continuous improvement and kaizen: standardization and organizational designs. Integrated Manufacturing Systems 1997; 8(2): 110-117.
[13] Prado-Prado, J.C.; Fernández-González, A. J. y García-Lorenzo, A. Quality management and personnel participation: Improvement teams, a solution for ISO 9000 system maintenance problems in small to medium-sized enterprises. Human Factors and Ergonomics in
Manufacturing 2004; 14(3): 221-237.
[14] Sawada, N. The Kaizen in Toyota Production System. Quality Control Course 1995; 6: 1-38.
[15] Ishikawa K. Guide to Quality Control 1985.
[16] Dahlgaard, J.J.; Dahlgaard-Park, S. M. Lean production, six sigma quality, TQM and company culture. The TQM Magazine 2006; 18(3): 263-281.
[17] Scholtes, P. R.; Joiner, B. L. y Streibel, B. J. The team handbook Madison: 2003.
[18] Imai, M. The key to Japan's competitive success New York: 1989.
[19] Singh, J.; Singh, H. Kaizen Philosophy: A Review of Literature. IUP Journal of Operations Management 2009; 8(2): 51-72.
[20] Suárez-Barraza, M.F.; Lingham, T. Kaizen with Kaizen-Teams: Continuous and Process Improvements in a Spanish municipality. The Asian Journal on Quality 2008; 9(1): 1-21.
[21] Delbridge, R.; Lowe, J. y Oliver, N. Shopfloor responsibilities under lean teamworking. Human Relations 2000; 53(11): 1459-1479.
[22] Irani, Z.; Beskese, A. y Love, P. E. D. Total quality management and corporate culture: constructs of organisational excellence. Technovation 2004; 24(8): 643-650.
[23] Mathieu, J.E.; Maynard, M. T.; Rapp, T. y Gilson, L. Team Effectiveness 1997-2007: A Review of Recent Advancements and a Glimpse Into the Future. Journal of Management 2008; 34(3): 410-476.
[24] McGrath, J. E. Social psychology: A brief introduction. New York: 1964.
[25] Cohen, S.G.; Bailey, D. E. What Makes Teams Work: Group Effectiveness Research from the Shop Floor to the Executive Suite. Journal of Management 1997; 23(3): 239-290.
[26] Marks, M.; Mathieu, J. E. y Zaccaro, S. A temporally based framework and taxonomy of team processes. The Academy of Management Review 2001; 26(3): 356-376.
[27] Rico, R.; Alcover de la Hera, Carlos María y Tabernero, C. Efectividad de los Equipos de Trabajo, una Revisión de la última década de investicación (1999-2009). Revista De Psicología Del Trabajo y De Las Organizaciones 2010; 26(1): 47-71.
[28] Kozlowski, S.W.J.; Ilgen, D. R. Enhancing the Effectiveness of Work Groups and Teams. Psychological Science in the Public Interest 2006; 7(3): 77-124.
[29] Ilgen, D.R.; Hollenbeck, J. R.; Johnson, M. y Jundt, D. Team in organizations: From Input-Process-Output Models to IMOI Models. Annual Revision Psychologist 2005; 56: 517-543.
[30] Brannick M, Prince C, eds. An overview of team perfomance measurement. In: Lawerence Erlbaum Associates, I, ed. Team performance assessment and measurement: Theory, methods, and applications. Mahwah, New Jersey: Lawerence Erlbaum Associates, Inc, 1997; 370.
[31] Mickan, S.; Rodger, S. Characteristics of effective teams:a literature review. Australian Health Review 2000; 23(3): 201-208.
[32] Lemieux-Charles, L.; McGuire, W. L. What Do We Know about Health Care Team Effectiveness? A Review of the Literature. Medical Care Research and Review 2006; 63(3): 263-300.
[33] Gibson, C.B.; Gibbs, J. L. Unpacking the Concept of Virtuality: The Effects of Geographic Dispersion, Electronic Dependence, Dynamic Structure, and National Diversity on Team Innovation. Administrative Science Quarterly 2006; 51(3): 451-495.
[34] Johnson, M.D.; Hollenbeck, J. R.; Humphrey, S. E.; Ilgen, D. R.; Jundt, D. y Meyer, C. J. Cutthroat Cooperation: Asymmetrical Adaptation to Changes in Team Reward Structures. Academy of Management Journal 2006; 49(1): 103-119.
[35] Mathieu, J.E.; Schulze, W. The influence of team knowledge and formal plans on episodic team processperformance relationships. Academy of Management Journal 2006; 49: 605-619.
[36] Patton, M. Q. Qualitative Research and Evaluation Methods. London, UK: 2002.
[37] Vidal-Vázquez E, Martínez-Carballo M, Guillén-Solórzano E, eds. The management of human resources within total quality control. In: Anonymous Soft Computing in Management and Business Economics. Berlin / Heidelberg: Springer, 2012; 17-30.
[38] Creswell, J. W. Research design: Qualitative, Quantitative, and Mixed Methods Approaches California: 2009.
[39] Baker, D.; Day, R. y Salas, E. Teamwork as an Essential Component of High-Reliability Organizations. Health Services Research 2006; 41(4): 1576-1598.
[40] Wageman, R. Interdependence and group effectiveness. Administrative Science Quarterly 1995; 40(2): 145-180.
[41] Santos Vijande, M.L.; Sanzo Perez, M. J.; García Rodríguez, N. y Trespalacios Gutiérrez, J. A. Procesos de aprendizaje en las pyme industriales españolas: efectos en la innovación, calidad de la oferta y resultados empresariales. Innovar 2009; 19(33): 35-54.
[42] Mathieu, J.E.; Heffner, T. S.; Goodwin, G. F.; Cannon-Bowers, J. A. y Salas, E. Scaling the quality of teammates' mental models: Equifinality and normative comparisons. Journal of Organizational Behavior 2005; 26: 37-56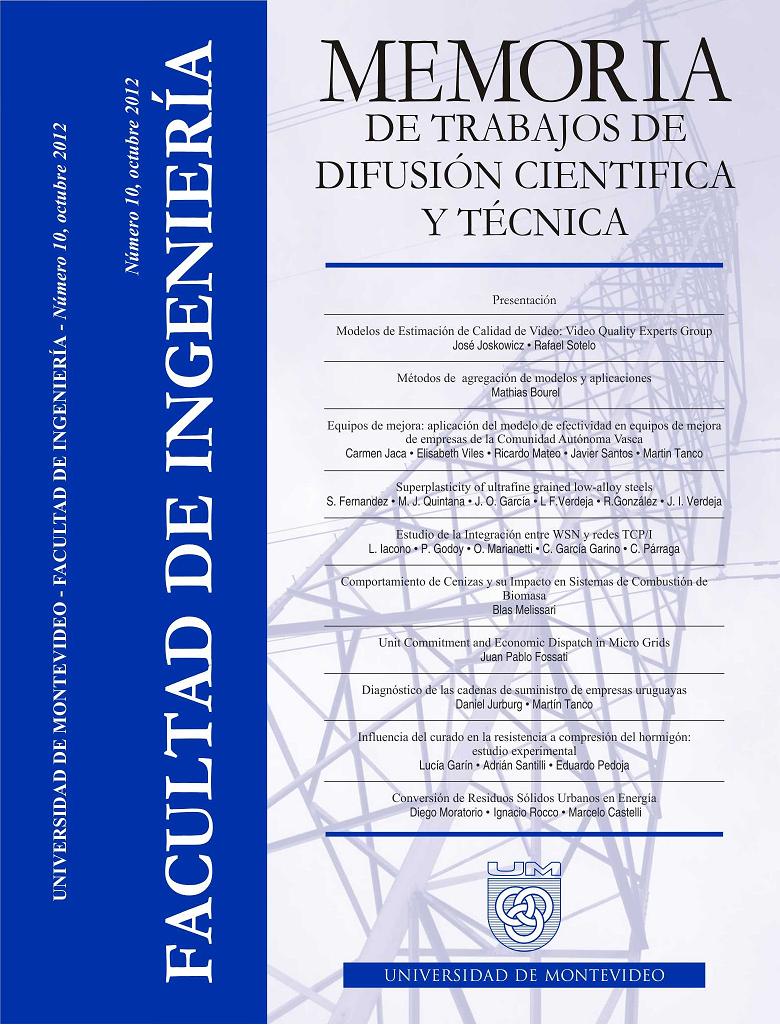 Cómo citar
[1]
C. Jaca, E. Viles, R. Mateo, J. Santos, y M. Tanco, Equipos de Mejora, ingenieria, n.º 10, pp. 33-44, oct. 2012.
Palabras clave:
Trabajo en equipo, Mejora continua, Modelo de efectividad, Procesos, Participación
Derechos de autor 2019 Carmen Jaca, Elisabeth Viles, Ricardo Mateo, Javier Santos, Martín Tanco
Esta obra está bajo licencia internacional
Creative Commons Reconocimiento 4.0
.